February 26, 2014


Pawsome Cat Lovers Community!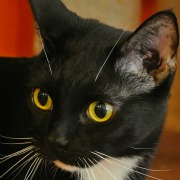 Greetings Cat Lovers, it's me, Pita cat! I'm pleased to bring you our Love Cats Digest, fifth eZine!
We sincerely appreciate your support in making this website a great community for cat lovers. We also would like to thank our guest writers for their wonderful contribution!
We, at MustLoveCats.net, are very excited about sharing the fifth issue with you!
Enjoy!
---
Issue Summary:
(1) Pita Cat News
(2) Our First eBook
(3) Featured Article: Common Cat Ailments and Why you should know them, by Damir Vidan
(4) Featured Cat Poem: A Tale of Two Cats, by Jeremy Bloomfield
(5) Do you have a senior cat? Does he or she requires a special diet?
(6) Follow Us
---
Pita Cat News
This past few months, our muse, Pita cat was pretty busy developing new relationships with other communities, such as Twitter, Facebook, Google+, Blogger, Blogster, Pinterest, and more.
Last month, Lindsay Bosslett, a writer with the Woman's World Magazine contacted us. She wanted to "feature a recipe or two for a cat treat that people could make at home to either donate to a local shelter or sell at a pet-friendly bake sale to raise money." We are so excited to be able to contribute to this wonderful column "Make Someone Happy." Lindsay will let us know when the issue will be printed and will be sure to share with all of you!
We are also in the process of recreating our logo, launching our first cat magazine and publishing new videos! That's right, we been busy...and can't wait to share all of our new cool and interesting things with you.
Click here to get our homemade cat treat recipes!
---
Our First eBook - "For The Love Of Cats"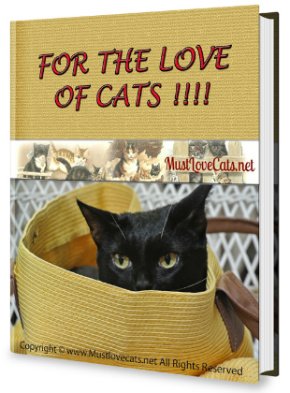 Another exciting MustLoveCats.net accomplishment was releasing our first eBook, "For The Love Of Cats."
For the past few years, we received several requests and questions from cat lovers from around the globe. We love to provide you all with fresh and unique articles that can help you and your family to have a healthy and happy relationship with your feline friend. For this reason we decided to write our first eBook. It contains many interesting facts and helpful information about cats and kittens.
This book is our gift to you!
Click here to get your FREE copy.
---
Featured Article: Common Cat Ailments and Why you should know them, by Damir Vidan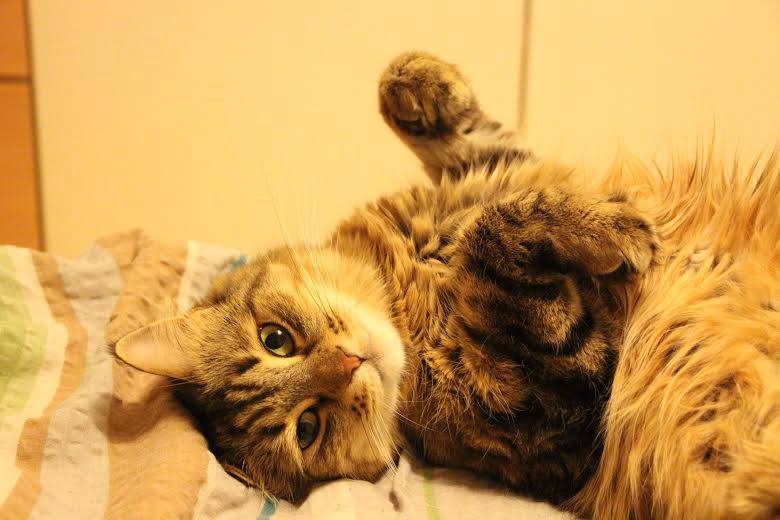 We recently received a wonderful contribution from one of our readers and cat lover. The article provides excellent and insightful information about common cat illnesses and why it is so important that cat owners know about them.
"Like human beings, cats are not as self-sufficient as you think, especially those domesticated ones. Their inability to get the nutrients from the wild makes domesticated cats more prone to acquiring certain ailments than their counterparts in the wild.
Cat owners should always place importance on getting their cats checked out by their local vets, scheduling their shots, and even getting the right kind of nutrition for their pet cats. Otherwise, your cat will probably acquire one, or ..."
Click here to read the full article.
---
Featured Cat Poem: A Tale of Two Cats, by Jeremy Bloomfield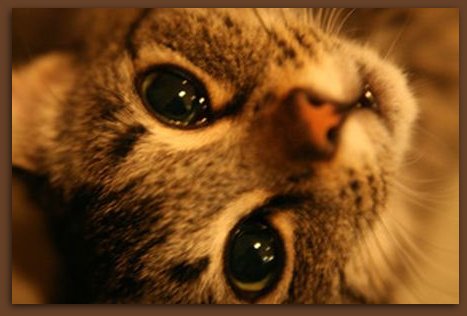 This is a beautiful and touching poem about cats! "All is silence not a peep Like cat voyeurs, we watch them sleep Dreaming away the hours Of prowlings amongst spring flowers
The butterflies you chased after Your cuteness and our laughter As curious little noses Sneezed at pollinated roses

And such innocence doth enchant As a new born nephew, to his aunt Tranquil, as a red sunset Calm, as a storm unmet

As they sleepily awaken from their doze A yawning purr and a lick of the nose..."

Click here to read the full poem.

Be sure to leave the author a comment and share his beautiful cat poem.

---
Do you have a senior cat? Does he or she requires a special diet?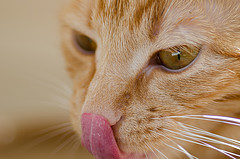 Senior cat food is created bearing in mind the special needs of older cats. Senior cats are generally classified as being over 11 years of age. They are prone to old age diseases, such as: heart problems, arthritis or obesity, and this will determine the need for a change in diet.
Senior cats aren't able to digest food as quickly and easily as younger cats. Their dietary needs must include high levels of protein to support a strong immune functioning.
Most mature cat foods contain highly digestible ingredients to help cats whose digestive system may not be as efficient as younger cats. In addition to easy-to-chew kibbles, a balanced and nutritious senior cat food must contain: high- quality protein, digestible carbohydrates, vitamins, minerals, a healthy level of magnesium, fiber, antioxidants, and fatty acids. As always, if you're unsure of what food to feed your senior cat, ask your veterinarian.
If your senior cat still eats dry food, you should consider switching to a smaller sized kibble; a lot of senior cats have dental problems, missing teeth or gum issues, so the chewing can be problematic...
Read the full article here.
---
Follow Us
You can also contact and follow us via:
Twitter - @Pita_Cat
Facebook - Mustlovecatsnet
Pinterest - Pitacatnews
Petsumi - PitaCat
That's all for this issue, until next time!
Wishing you all a Purrrfect week!
Pita Cat