Homemade Cat Treats

Custom Search
Homemade cat treats are fun, easy and inexpensive to make! In addition to giving your feline friend healthy cat treats that you can purchase from pet stores, you can also make healthy treats at home.
Making your cat treat has some advantages, such as: you'll know exactly what's in them; it will cost a lot less than the treats sold in stores; and, you can make large batches and freeze what you won't use right away.
Make sure you use human-grade ingredients, and try to use organic products whenever you can. Please note, you will need to try a few recipes in order to find the ones your cat will love.
Here are a couple of our favorite homemade cat treat recipes for you to try!
** Depending on the size of treat you make, these recipes can make between 12 to 18 treats (cookies sizes). If you decide to bake only half of the dough, you can keep the other half refrigerated for up to 3 days (or you can freeze it for up to 3 months). Once you bake the treats, wait until is room temperature before you give it to your cat. 
*** Keep your baked cat treats stored in a kitchen drawer or cabinet. Based on our experience, you should not keep them longer than 5 days. (We noticed that the treats become a bit too hard for your cats to eat)
Enjoy!

Chicken Treats

1 ½ cups cooked chicken, shredded

1 cup whole wheat flour

½ cup chicken broth

1/3 cup cornmeal

1 tbsp. softened margarine
While your oven is preheating to 350 degrees Fahrenheit, combine the chicken, broth and margarine, then add the cornmeal and flour. Knead the dough into a ball and then roll it out to ¼ inch. Cut into one-inch pieces and bake for 20 minutes on an ungreased cookie sheet.
Cheese Treats
¾ cup shredded or grated cheddar cheese

¾ cup whole wheat flour

¼ cup sour cream or yogurt (plain)

¼ cup cornmeal

5 tbsp. grated parmesan cheese
While your oven is preheating to 350 degrees Fahrenheit, combine all the ingredients into dough (add a touch of water if needed). Knead the dough into a ball and then roll it out to ¼ inch. Cut into one-inch pieces and bake for 25 minutes on a greased cookie sheet.
Liver Cat Treats
You can also make a healthy liver treat for your cat. You'll need:
½ cup of chicken livers (fully cooked)
1 ¼ cup of whole wheat flour
¼ cup of mashed (cooked) carrots
1 tablespoon of margarine
Combine the flour and margarine in a bowl, blend the livers and water, then add to the mixture. Roll into balls and cut into small pieces. Bake this cat treat at 325 degrees for about 12 minutes.
Looking for homemade cat food recipes?  
Homemade Tuna Crackers
6 ounces of undrained tuna
Preheat the oven to 350 degrees. Measure all of the ingredients into a bowl and mix thoroughly with your hands. Roll out to 1/4 inch thickness and cut into treat sized pieces. Place on a greased cookie sheet. Bake for about 20 minutes or until golden.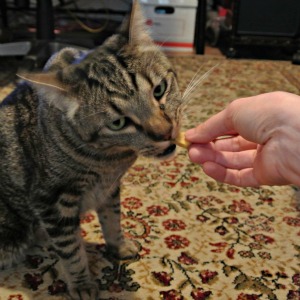 I've tried this recipe recently, and our cats liked it! The recipe doesn't specify if the tuna should be in water or in oil. I used tuna in oil, and it looks great and smell pretty good too. The recipe suggested baking for 20 minutes, however the cat crackers were done in only 16 minutes. I only baked half of the dough, the other half I placed in the freezer.
Our cats really enjoyed eating homemade cat treats!

Tasty Ham Cat Treat

(New)



1 jar (2-1/2ounces) strained ham baby food
5/8 cup wheat germ
5/8 cup non-fat milk powder
1 egg, beaten
Preheat oven to 350 degrees.
Spray cookie sheet with vegetable oil spray.
Mix baby food, wheat germ, milk powder, and egg in
medium bowl.
Drop by 1/2 teaspoonfuls onto prepared baking sheet.
Bake 12 to 15 minutes.
Remove from oven and let cool on wire rack.
Store baked treats in airtight container or plastic bag and place in refrigerator or freezer.
NOTE: You can also use beef or chicken baby food.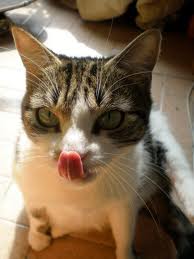 Salmon Cat Treat
(New)
1 12-oz can salmon with liquid
1 egg
1/2 cup flour
1/2 cup instant oatmeal, ground in a blender
Combine the salmon and egg in a blender; mix until
smooth.
Add the oatmeal and blend well.
Spray cooking spray on a 9-by-13inch pan and spread
the mixture in the pan.
Bake at 350 degrees for 30-35 minutes.
Cool, then cut into bite-sized squares.
You can also store it in the freezer.


Meow Yummy Sardine Treats
(New)
2 flat cans of sardines in oil (Do not drain)
2/3 cup cooked rice
1 tablespoon pureed liver
1/4 cup chopped parsley
Combine all ingredients and mix well.
Shape into balls of desired size or simply spoon in to cat's dish and serve.
These treats may be stored in the refrigerator for up to three days, and may also be frozen.

Prescription Diet Cat Treats



If your cat requires special diet, you may be able to make simple cookies from canned food (the food needs to be firm for this treat). To make these snacks, slide the food from the can in one piece. Next, cut into 1/4-inch slices using a sharp knife. Lay the slices about 1/2-inch apart on a cookie sheet, and bake at 325 degrees in the oven until crispy. Once cooled, serve these tasty cookies to your pet. They will be good for a week or two in an air-tight container stored in the refrigerator.
---
Natural homemade cat treats are simply the best, and as you can see, they're really easy and inexpensive to make! Remember, have fun trying new recipes! And enjoy the purrrrrrrs of happiness from you feline friend!
Have A Great Homemade Cat Treat Recipe?
Do you have a cat treat recipe that your cat love it? Share with us!
What Other Visitors Have Shared
Click the links below to see other great recipes from our readers.

kitty tuna biscuits

Get 5 oz can of tuna and empty into a bowl, then add 1 cup of all purpose and self rising flour, an egg mixed with cinnamon a small amount of water. Add …
Kitty cat cake Not rated yet
One egg Half a can of tuna 2 tablespoons of flour Shredded or grated cheese defrosted shrimp to Garnish
We frequently update this page with new cat treat recipes, so please feel free to visit us again soon!
Follow us

Share this page