Benefits Of Canned Cat Food

Custom Search
The benefits of canned cat food in a cat's diet are quite significant. "By and large, the canned food is going to have more meat, more protein from animals," Dr. Pierson says. A balanced and nutritious food is essential for your cat's health. Here are the reasons why cat owners should consider supplementing a cat's diet with wet food.


More Protein
Cats are carnivores. This means that they must get the majority of their nutrition from meat and protein. While purchasing canned cat food, make sure that the majority of the protein comes from animal sources. Other sources of protein, such as plants, are deficient in many of the necessary amino acids required by your cat.
Protein help cats to produce amino acids, which help the body grow, create cells and regulate normal bodily functions. Protein deficiency can lead to: loss of appetite, weight loss, dull coat and skin, lethargy, poor immune system, and increased rate of illness and infections.
Dried cat food is heavy in protein, but not heavy enough. Dried cat food is, on average, comprised of about 33% protein. Canned food is comprised of 40-60% pure protein.


More Hydration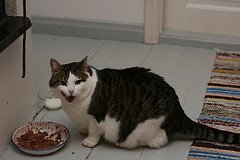 The most important nutrient of all is water. Canned food is also called wet food, and it contains about 75 to 80% moisture, which is considerably higher than the 5 to 10% in dry cat food (kibbles). Cats that eat only dry food may not be getting sufficient levels of hydration. Poor hydration over time can lead to kidney disease and urinary tract infection.
Canned food has a much higher moisture content formula, which can help cats to keep their hydration levels closer to normal. Please note, wet food does not replace fresh water, so make sure your cat gets fresh water as well.


Fewer Carbohydrates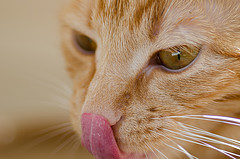 Wet food has a lesser amount of carbohydrates, which is more efficient in providing nutrition to the cat. However, if you are feeding your cat a diet consisting entirely of wet food, be sure to follow the manufacturer instructions. This will help to decrease the chances of your cat to become overweight.


Conclusion
Canned cat food provides more protein, more hydration, more palatable flavor and fewer carbohydrates than dry cat food. While dry food can be convenient and nutritious, owners should not deprive cats of wet food entirely.


---
Related Articles:
More about nutritious and balanced cat food
Senior cat food and special diet
Keep your cat away from harmful substances


Return from Canned Cat Food to Our Home Page