Cats and Kids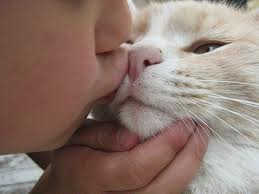 Cats and kids! What a purrrfect pair! Growing up with cats is a wonderful experience. Kids can learn to treat animals with respect and love, something they can carry with them to adulthood.
We gathered a few tips that can help to promote a positive and healthy relationship between kids and their feline friends.
Avoid tears by teaching your kids to properly handle a cat. Always pick up cats with both hands. One hand should support the back paws and the other use to support its chest, and hold the cat gently but firmly close to your body. Note, cats should not be picked up by the scruff of the neck or its belly.
Cat's sensitive areas. Cats have a very sensitive stomach, by touching this sensitive area will bring an instinctive reaction of "grab and bite." The other sensitive areas cats have are their ears, paws and tail, again, if your child touches, pull or grab their paws or tail, the cat will scratch and bite.
Your child should be aware of such reaction, this should prevent some tears later on. Remember, teach your kids how to touch your feline companion with gentle and soft touch.
Learn about your cat's body language. Another important tip is to teach your child to learn about a few basic feline body language and sounds.
Cats tell a lot about their mood by their body language, expressions, and sounds. For more information about cat communication click here.
Supervised play time. It is very important that you supervise play time between your cats and kids, especially with a new pet. As a parent, you must teach your children to respect your cat. During the play time, make sure that your child does not corner the cat. Cats feel threatened and their normal reaction is to swat and bite.
Cats and Kids Tip #1: Promote healthy and positive interaction between your child and your cat by teaching them to use cat toys.
Although, if you have children under 6 or 7 years of age, and you are thinking about adopting a feline companion, you should refrain from adopting a kitten younger than four months old.
Remember, an overly affectionate child can injure a small kitten with a well-meaning hug. On the other hand, an older cat can better withstand a young child's actions and noise.
Cats and Kids Tip #2: Adult supervision is the key for a positive and harmonious relationship between your children and cats.
Break time. Remind your child that they need to give the cat some space, and after play they should give the cat a break. Also emphasize that they should not disturb their feline friend during nap time, eating time and when the cat is using the litter.
Do not allow or promote rough play. Remember, domestic cat still have their instincts and they will react with aggression during rough play. Such provocation will lead to bad cuts, lots of tears and a negative image of the cat in your kids mind. So, it is your responsibility to teach your children and cat or cats how to play.
Inform your Kids how important it is to keep your cat indoors. Make sure your kids understand the importance of keeping your cat indoor.
As a parent you must explain the reasons (e.g., car accidentally getting hit by a cat, lost, hurt by other animals, hungry, cold, etc), kids also must learn that it is also part of their responsibility to keep your cat safe.
Teach your kids how to care for your cat. Kids can learn a lot from caring for an animal. Although, parents must remember that their kids are also learning and they can be easily distracted and will forget to perform their chores.
Wait until your child is old enough before you start giving him/her pet care responsibilities. Once your child is older, you can start giving him/her small and easy care duties, such as adding fresh clean water and gathering the cat toys from around the house.
Again, a very strong bond can be developed between cats and kids and this can teach them to love and respect animals for the rest of their lives.
---
Related Articles:
Preparing For a Baby When You Have a Cat
Important Facts About Pregnancy And Cats
Return from Cats and Kids to Our Home Page