Pregnancy and Cats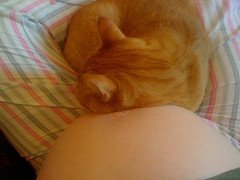 You might have a few questions about pregnancy and cats. Here you will find some valuable information about health concerns and how to create a healthy environment for your baby and your cat.
Perhaps the most common health concern is a parasitic disease caused by the protozoan Toxoplasma gondii. This is one of the world's most common parasites. Toxoplasmosis can be transmitted by coming into contact with cat feces that contain the parasite; eating contaminated food - such as lamb, pork and venison, and drinking contaminated water; drinking unpasteurized milk; using contaminated knives, cutting board and other utensils; eating unwashed fruit and vegetables; and by receiving infected blood or organ transplant.
Cats kept indoors, that do not hunt pray or are not fed raw meat are not likely to be infected with toxoplasmosis. Although, you should take your cat to the Vet for a routine health exam and vaccinations. Remember, a healthy cat equals a healthy home!

Tip #1: Wear disposable gloves and wash your hands immediately after cleaning your cat's litter box, as well as after handling your cat. If possible, have a family member to take over this task.
Tip #2: Ask your physician about immunity to toxoplasmosis. Many of us may already acquired this parasite, but our immune system is strong enough to get rid of it.
During your pregnancy, be sure to play with your cat. You can also wear the baby lotions and powders that you will be using once your baby arrives. And, don't forget to give your cat a treat after the play time. This will help your cat to develop a positive association with the new scents.
As you know, cats like routine. Of course, with your baby's arrival, things will not be the same anymore. However, try to keep your cat's feeding and play time the same. As well as, maintaining its basic care, such as: clean litter box, clean bowls, and nails trimmed.
Remember, before your baby's arrival, your cat didn't have to share your attention with anyone else. Be sure to spend time with your feline friend.
Pregnancy and Cats Myth: Many of us heard the saying "cats suck the air out of babies." Although, there is no evidence to support this old wives' tale. Cats like to sit close to us, sometimes a little too close, and that could inadvertently suffocate a baby. So, it is a good idea to keep cats from sleeping with an infant.
Most of all, be present during your child and cat's interaction. For more information about cats and kids, click here.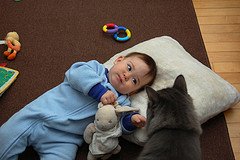 So, you don't need to get rid of your cat, you just need to make a few changes that will promote a healthy environment for your newborn and your cat.
Remember, a very strong bond can be developed between cats and kids and this can teach them to love and respect animals for the rest of their lives.


Return from Pregnancy and Cats to Cats and Kids
Return from Pregnancy and Cats to Our Home Page