About Us
Greetings Cat lovers,
Let me tell you a little bit about us! My name is Luci and I want to share my love for cats with everyone!! I grew up around pets, but cats were always a mystery to me. As a teen I was never patient enough to understand them, making it easier for me to love dogs.
In 2005 my husband and I went to get our car checked out at a Saturn dealership and one of the maintenance representative approached us. She whispered "Would you like to see what I have in my office?" and my husband and I looked at her surprised, we were not sure what she was talking about. She made it look like a secret, and we followed her.
When she opened the door, we saw four kittens. They were so tinny, and cute. I couldn't resist... She closed the door behind us and said "I found them outside, and need to find a home for them before my manager finds out what I have here."
I was so happy...I had to take at least one home with me. I felt like a kid again, and after making several promises to my husband and accepting all the responsibilities for the kitten, he said Yes!
We named our kitten Pita!!! and as a first time cat owners we made several mistakes, reason why I want to share what I learned with all cat lovers out there.
Three years ago, I realized that I love cats and wanted to do more for them, so I started to volunteer at rescue organizations that needed additional help. It was during one of the rescuing dates that I found, and fell in love with another kitten. I brought him home and after dwelling over which name to give him, my husband said "he looks like a tiger", and the little kitten looked at him. So there you have it, we named him Tiger!!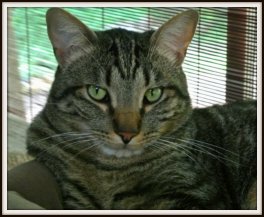 It was a lot of work, between rescuing feral cats and finding them good homes, but the feeling of accomplishment was priceless. It made me a better person!
We hope you enjoy our website and also share your experience, questions and photos with us, and cat lovers everywhere!


And don't forget to subscribe to our quarterly Love Cats Digest E-zine.
Very best,
Mustlovecats.net
Mustlovecats.net is not affiliated with any TV show.



Click here to learn more about us.


Return from About Us to Our Home Page