Manage and Understand the Causes of Cat Stress

(Environmental and Emotional Factors).
Cat stress can lead to health issues, here you will learn how to identify and manage your cat's stress.
Like us, cats are very sensitive and their stress and anxiety relates to emotional factors, caused by environmental changes and physical stress.
The most common environmental changes, linked to cat stress are: moving, arrival of a new baby, new spouse (new relationship), other household pet, vacation, etc.
Cats don't like changes in their environment and routine. They will show their dissatisfaction by changing their behavior, they might show some aggression, withdrawal, or sudden litter box avoidance. They might even show signs of sickness, such as vomiting, eye infection, loss of appetite, etc.
 Bringing Home A New Pet May Cause Cat Stress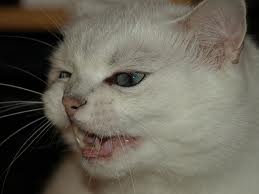 If you decided to bring another cat to your home, be sure to gradually introduce the new cat to the older one. Do not let them both alone in the same room, at least not at first. The new cat should be introduced to your home the same way you did with your first cat.
For more information regarding introducing a new cat, click here.
While introducing a new family member, friends and/or other animals, be sure to give your cat the same level of attention it was used to have from you before the arrival of new humans or other pets. Remind your cat that they still your favorite, and do not force their interaction, allow your cat to come around on his own pace.
A slow introduction will be healthier to your cat, preventing stress and possible health issues.
Moving & Vacations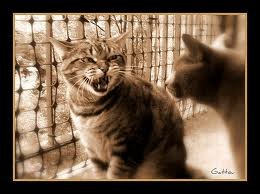 If you are in the process of moving or going on a long vacation, be sure to prepare your cat for such event. During your move try to keep your cat in a separate area - with its bed, food, water, toys, scratching post, everything your cat will need to feel safe and comfortable.
Once you arrive at the new location, do the same. By placing your feline friend in a separate room, away from movers and boxes will minimize you cat' stress. Remember, gradually introduce your cat to the new home.

If you are going away for a long vacation, be sure to leave your cat with someone that has already had contact with your pet. If possible, keep your cat at home and have your trusted friend or family member to come to your home to take care of your pet.
You can also consider leaving your cat at a hotel for cats or at the Vet's office. If you never used this service before, be sure to visit their facility before you choose where you will leave your pet.
Click here to learn more about cat boarding, and to find a reputable boarding facility near you.
Schedule Change

Another situation that can cause cat stress is a sudden change in your schedule. That's right! Sometimes a new job can be something that triggers stress in your cat. Cats can become really lonely and sad with your absence. The best way to help your cat to cope with your absence is to make sure that your feline friend gets attention before you leave home and at your arrival.
Make them feel special, and show them that you also missed him/her during the day. You can have a special treat for them upon your arrival, or take a few minutes and make it fun with play time. They will start to respond positively towards to this new schedule, and they will look forward to seeing you after work.
Additional Factors That Can Contribute to Kitten Tension

Of course there are other stress factors in your cat's life, however, these are the most common causes.
Cat stress factors also include: a loss of a family member, fear (from someone, sound, things, and situations, such as: fire, earthquake, hurricane and tornado), rivalry and/or jealousy.
Some of these stressful situations are beyond our control and the only way to help your cat coping with this situations is to make them feel special and giving them as much attention and love you can.
You may also try natural supplements for cat stress. They are non-prescription remedies, such as herbs, flower essences, or homeopathic remedies that can help to reduce your cat's stress and anxiety. You should always consult your Vet before trying any of these products.
---
Related Articles:

Return from Cat Stress to Our Home Page
Aug 30, 18 03:47 AM

There are guides all over the internet which outline how to take a dog on a car journey. Every canine owner can verse themselves in...

Aug 27, 18 04:58 AM

you're a cat lover, then you've probably spent many an hour telling your friends and family about all the benefits of having those little balls of fuzz...

Jun 18, 18 05:44 AM

Cats are active and generally healthy animals. They eat quite well and spend a chunk of their time outside in the fresh air...