Cat Birth Preparation

Custom Search
Cat birth preparation includes getting your home and family ready! As the due date arrives, you will notice your cat searching for the nesting place. Make sure you place a box, lined with her favorite blankets, and close all closet doors and remove the cat litter from the area.
Although it is hard to predict if she will actually use this box, so you should place few more boxes by quiet and secluded areas where she will feel safe and secure.

The box or boxes must be at least 2 feet long, 1 1/2 feet wide and 1 foot high. Make sure the box is large enough for your cat to stretch out and change position during delivery, but small enough for her to feel warm and safe from intruders.
We suggest that you use cardboard boxes, they are easy to find, you can cut to the size you need and you can dispose of them after the delivery. You can also use laundry baskets, just make sure that the side openings are extremely thin and small so that the kittens will not get their heads stuck in them. There are also kittening boxes that you can purchase at pet stores.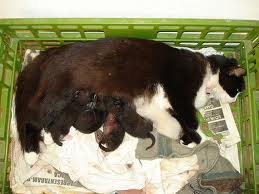 Before the delivery day you should spend some time with her, take her and few favorite toys to the box(es) you set up for her. Also make sure that your pregnant cat does not go outside, keep her indoors until after the delivery - many cats run off and have the kittens somewhere unsafe, and you won't be able to find them.
If this is your cat's first litter, she may not be familiar with what to do, so try to be present when she delivers, she may need your help. If you can be present make sure you do not intervene unless there is a problem.
While delivering the kittens your cat may get tired, so you may need to help her to deliver a kitten, break the membrane around a kitten, or help one start breathing. Ask your veterinarian for information about how to assist your cat in delivering the kittens.



Cat birth preparation. Items you will need:

Towels or paper towels. If necessary, you can use it to help to clean and stimulate the kittens.
Newspaper. Use it to line the delivery box, place a stack in the bottom of the box, so you can remove one-by-one as they become soiled.
Additional boxes. After the delivery, you can place your cat and kittens into a clean box. Make sure you add a blanket or several towels over it, and keep the box warm.
Heating Source. Common kittening boxes heating sources include: heat lamps, infrared lights, and heating pad. Please note, heating sources shouldn't be placed too close/directly to the newborns.
Bulb Syringe. During birth, the cat mom will stimulate the kittens to breath. Although, if the cat is inexperienced or have very large litters, she will need some help.
Gloves. Keep your hands clean.
Scissors. Use it to cut the cord, if necessary.
24 hour emergency Vet number.
Should you have any questions regarding cat birth preparation or delivering kittens, be sure to contact your veterinarian.


Return from Cat Birth Preparation to Cat Pregnancy