Introducing a New Cat to Your Family and Home

Your new cat must be properly introduced to your family and home. By following a few simple steps you can avoid a lot of stress and frustration.

Cats are territorial, and coming into a new home leave them feeling really uneasy. There's all that uncharted space, and who knows what is out there. Do your new cat a favor and provide a small area to call his own for the first few days or weeks.
A bathroom or laundry room works well. Furnish the room with cat amenities, such as food, water and a litter box. You'll want to spend time with your cat, so make sure there's a comfy place for you to sit as well.
Set up a feeding station with food and water bowls. Locate it away from the litter box.
Cats love to get away from it all in small places, and you can provide one for your new cat as his own little safe haven. If he came home in a cat carrier, that might be a good choice. You can also buy a covered cat bed at a pet supply store.
Also provide your new cat with a socially acceptable scratching place. Some types are made of corrugated cardboard and lie on the floor; others are posts which have to be tall enough so that the cat can extend himself upward to scratch. You can encourage your cat (once he has arrived) to use the post by sprinkling it with catnip or dangling a toy at the top.
Before your cat is acclimated to your home, be sure to remove items that can be damaged or knocked off from kitchen cabinets and high shelves, cats love to go to higher locations and these will be the first place they will go. If possible, you should purchase a cat tree, they can use it to survey their territory and it is also a great resting place.
Also look for holes or registers that leave duct-work accessible and cover them up. They can try to hide or even slither into one of these places and it can be hard and painful to rescue them from such places.
Remind your family member not to startle him and to keep the door to his room shut.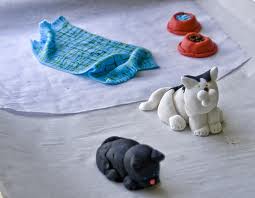 Your newly adopted cat may not eat much or at all at first. It's best to give your cat the same food she or he had at the shelter or in her foster home, at first. Keeping some things familiar will make her feel more secure. Be sure to change her water frequently and make sure that she is drinking.
Please note, if your cat hasn't eaten for a few days, call your Vet to ask for advice.
Most important, be patient, it may take your new cat a week or two to adjust to the new environment and new family. Within a week or two of being adopted, take your newly adopted cat for her first wellness visit with a veterinarian. If you have a record of immunizations from the shelter or from the breeder, take it with you.
Once your kitty has adjusted to this area of your home, it's time to give him access to a bit more of the house. Remember, this should be done slowly and gradually, if at all possible, rather than turning your cat loose to a whole new area. If your cat shows signs of stress, you may need to restrict his access to a smaller area of the house and allow for more time for adjustment.
Make sure other pets or family members won't startle him while he gradually expands his territory. Remember, be patient and keep it fun!


Return from New Cat to Cat Adoption

Return from New Cat to Back To Our Home Page