Enrico
by Heather Goffin
(New Zealand)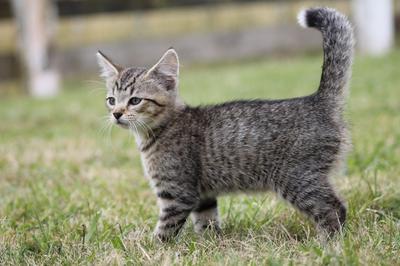 Enrico (known as Rico) has been with me a month now, a classic "brindle" tabby. "Free to a good home" I picked him up and was told he was nine weeks old. However, I suspect he was younger because I noticed he would nuzzle in to the other kitten I got the same day from somewhere else (Enzo, already written about), trying to lactate. The other 'give-away' sign that he may have been younger was his still slightly blue eyes which are now gradually changing to a lovely yellow. He also still drinks so much kitten milk daily, preferring to drink before and during eating. When I took the kittens to the Vet for a health check and first inoculations, he made no comment about Rico's age but I suspect he was nearer to 6 or maybe 7 weeks old at most.

He is small but energetic and has a well rounded body, average length tail with a white tip and beautiful markings. Rico is a delight, dashing about, tail lashing see what mischief he can get into next. He can still fit into small spaces where the larger kitten can't and he seems to delight in this achievement, pouncing out as Enzo goes by, then being able to get away again if he wants to.

Rico grew into his name (Enrico Caruso) because of his loud purr. He has a wonderful "singing" voice, bursting into song at the slightest touch. Rico also spends lots of time outside, not as efficient a moth catcher as Enzo, but gets a few. His adventurous nature has seen him climb far too high into a macrocarpa tree and then want help getting down - not once but twice so far. He also tries to jump up the floor-to-ceiling book case to reach each shelf. As he is still quite small, he hasn't been successful so far, so chewing on bookmarks is a good past-time instead.

I have observed that it's Rico who pulls the cat blanket off the dining chairs and drags it either into the lounge then lies on it in the evening (when he's not on my lap) or - one morning I went out to where they sleep in the kitchen/dining area and he'd pulled the blanket down and got it half stuffed into a hole in the top of their cat tunnel. He really attempts to do things which I would have thought are too difficult for a little kitten.

The affection Rico and Enzo have for each other is delightful to see. When playing, either inside or outside they are always within the same vicinity. Inside they play together then when it goes quiet and I investigate, they will be asleep somewhere together, usually draped over each other.

These two lovely little cats will be my delightful companions for many years to come and I value their differences in temperament, looks, abilities and eating habits.