Enzo
by Heather Goffin
(New Zealand)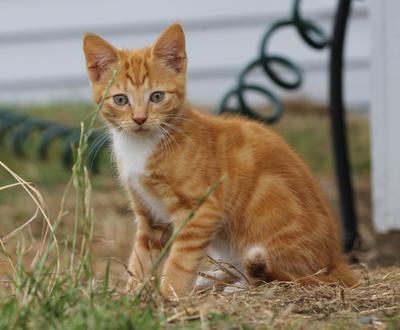 Enzo came to me a month ago at around 11 weeks of age. He in a ginger male with beautiful markings. "Free to a good home" Enzo has quickly endeared himself and apparently comes from a litter of 5 ginger kittens, 2 of whom were female - a rarity.

Although a "Moggie" I have noticed that as he develops, he has many characteristics of the Siamese. He has long legs, is tall for his age with a long tail, wedge shaped face and a voice which is reminiscent of any Siamese likely to be encountered. Enzo (named after Enzo Ferrari because of his speed and 'powerful motor') is an absolute delight. Mischievous, alert, smart and very affectionate. He has already developed a habit of dragging or bringing toys into the room where I am and really "massacring" them. New toys have appeared and old ones taken away for repair.

If I leave my slippers on the floor when changing into shoes, then I am likely to find the innersoles have been taken out! Bookmarks sticking out of the bottom of books get thoroughly chewed and he is taking a lot of discouraging to stop him walking over the dining table or computer desk. However, his bright, alert "what can I do next" look on his face just melts me and I so enjoy his antics.

Enzo loves to be outside, catching moths at night and eyeing up the 12 chickens wandering about, wondering if he can pounce on them too. This is discouraged, but one day I noticed the 5 largest chickens had him baled up by a wall, eyed him sternly, clucking away. He managed to escape and I think is developing a healthier attitude towards sharing the huge yard with another species. The alpacas just look with surprise at the "little monster" and dare him to come into their field. He hasn't tried that yet, but I don't think it will be long before he gives it a go.

He shares my home with a DSH tabby called Enrico so has another feline to romp and sleep with. I am enjoying having little felines in my home again very much.
Join in and write your own page! It's easy to do. How? Simply click here to return to Tell Us About Your Cat And Share Photos! (Breed).