Gizmo "Gizzy" and Carmelo "Carmel"
by Caroline Rupe
(Geneva Ohio)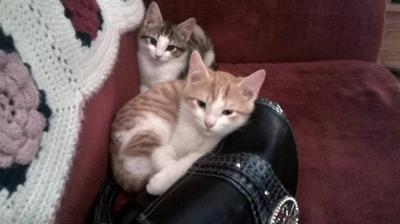 This is my cat Gizmo (grey) and his brother Carmelo (orange) who were rescued by 2 little boys and bottle fed. They are sweethearts and so gentle with kids. Not to mention that they are also beautiful and have awesome markings on them.
Join in and write your own page! It's easy to do. How? Simply click here to return to Share Your Cat Photos With Us! (Photos).