Ms. Kay A. Clark
by Kay A. Clark
(Rock Falls, IL USA)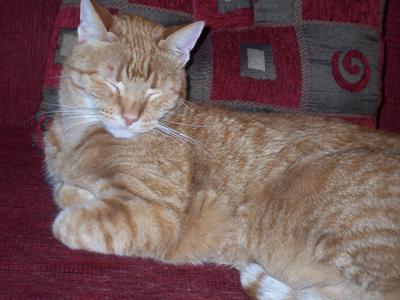 Here's my Sebastian looking all smug
"She's too Fat for Me!"
I have two cats. Sebastian is an orange, domestic tabby who is very slight in build, just turned seven years old and Sidney, a beautifully marked black, gray and white large cat who turned six in May.

Sebastian weighs in at about eight plus pounds and Sidney, a little over twelve pounds. Sebastian was the first one on the scene and is the "Alpha" cat. He will remind Sidney of this fact every so often. He already has her trained so that he gets first dibs on the food dish while she patiently hunches down about two feet away from the dish and waits for him to finish eating before she indulges. Sebastian was born on a farm and is used to being 'free'. So I let him out a few times during the day weather permitting. I know;you're probably throwing your hands up in the air exclaiming, "Noooooooo". "You don't let the cat outside". Steve Dale, of My Pet World is a strong advocate on this issue, but I have the good fortune of allowing Sebastian his freedom and after he's taken 'attendance' or surveyed the surrounding land for any critters to bring home, he'll jump up on the table on the porch just outside my living room window and 'signal' that he's ready to come in. He also knows my office window and will come right up to it 'meowing' his request to come back in.

In my book, "Sebastian & Me, A Rite of Passage and Spiritual Journey", I wasn't so lucky in his return. He didn't come back for a day. Then two days. Then three days...he was MIA for five months! I journaled my search most every day and counted up 10,000 words. I was already involved in a writing group and a lady friend there told me I only needed 40,000 more words to upload and get a book! Did you catch the light bulb moment? Actually, at the time, the task just seemed too over-whelming. But then I sat down and started putting together stories of real occurrences in the life and adventures that we had experienced up until then and actually came up with 51,300 words! Viola! I'd done it!! (And so can YOU). There have been a few miracles to be found in the journey that we have taken together and Sebastian continues to test the other eight lives he has left!

Back to my original topic = weight! I checked with my vet up in Wisconsin and she seemed to think he was just going to be slim and sleek. But over time, I believe he's gotten thinner. When I pet his back, I can feel his backbone. Maybe that's why he survives out in the wild. The critters out there figure he's no meal for them. Now that I've moved, I've taken Sebastian to the vet around this area and he advised I feed him kitten food. There's more fat content in that. Now to try to get him to eat it and Sidney to leave it alone.

Sidney has such a beautiful face. I had a reading done and the lady told me that they are a "team". That explains why they seem to play off one another so well. She also added that they will be good company for one another when someone else comes into my life. Ummm, I like that idea.

I've also learned in my research that our animals/pets will mirror our lifestyles. In other words, Chunko and I need to work out at the gym.